>

Private SOULworks Class - 5 Hours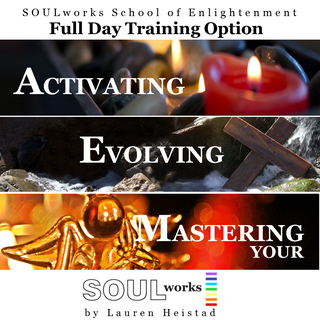 Private SOULworks Class - 5 Hours
SKU:
Enjoy your own Private Classes within the SOULworks School of Enlightenment. This offering includes 5 hours of training. Topics are customized to your spiritual development. Areas of study can include psychic development, energy healing, mediumship, soul path clarity, and confidence building in any and all areas of spiritual development. Various levels of awareness are welcome, with the class content being tailored to your own individual goals and needs.
A one day class runs from 10:30 to 4:30 with a 1 hour lunch break. Distance and In-person options are now available. Options for online Private Classes are done through Skype, Facetime, Messenger, or Zoom. In-person classes will take place in the SOULworks Sanctuary.
$525 per 5 hours of training. 
By purchasing this feature, you are selecting to work with Lauren Heistad for a customized training experience. Dates for classes range from Tuesday to Saturday and will be organized once payment is received. Lauren will work with you directly to find a date that works with both your schedule and hers. 
Due to COVID-19, please cancel any in-person classes if you have been exposed to the virus or are not feeling well. You will be reimbursed for your class in full, no questions asked. Thank you in advance for your care and attention to both yourself and all others.